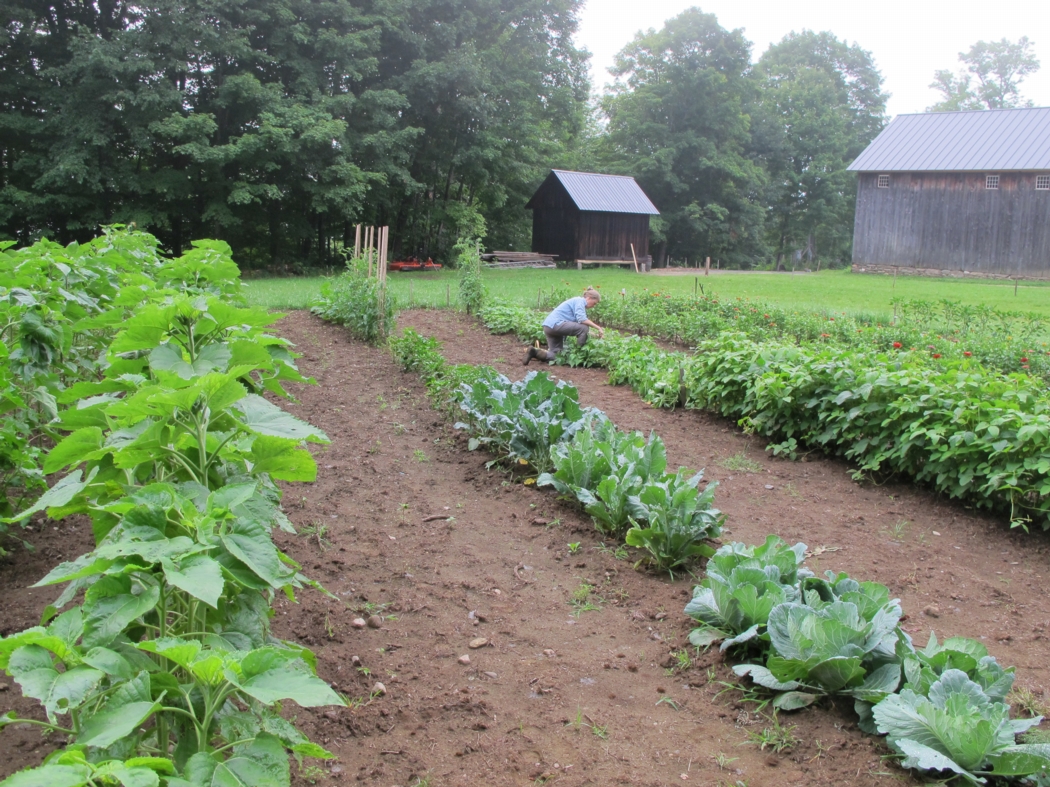 Photo: Alex Wilson
by
Alex Wilson
, Resilient Design Institute:
http://www.resilientdesign.org/resilience-on-the-home-front-creating-a-farm/
Two years ago, when I launched the Resilient Design Institute, was a time of transition.
I was pulling back from
BuildingGreen
, the company that I had started in 1985, and my wife, Jerelyn, and I had just bought an old Vermont farm a third of a mile down the road from where we had lived for 30 years.
We were beginning what would be a long process of figuring out what to do with the house and property.
Indeed, the house planning, design, and reconstruction was a major undertaking. After having written about energy efficiency, renewable energy, and green building for more than 35 years, there were countless ideas, materials, and innovative products I wanted to try out.
This would be a once-in-a-lifetime opportunity to create a model of sustainability, accessible design (where we can age in place), and resilience.
Renovating (really rebuilding) the house cost a lot more than we had anticipated and took a lot longer than expected - a nearly universal complaints of those involved with such projects - but we are very happy with the outcome.
We moved in around the first of January, 2014, just in time to give the superinsulated house a real test in what would turn out to be one of the coldest Vermont winters in decades.
We found that, indeed, the single, 18,000 Btu/hour, air-source heat pump was able to keep the house comfortable; we only used our back-up wood stove eight or nine times to supplement the point-source heat pump or provide the ambiance that only a wood fire can provide.
This ability of a house to maintain reasonably comfortable (safe) conditions on the coldest winter nights - even if power is lost - is a key tenet of resilient design, and I was very pleased that our house did so well.
Though we hope the house to be net-zero-energy in its operation - with space heating, water heating, cooking, and almost everything else, powered by a 12 kW solar-electric system - we can heat the place just fine with our small wood stove if we need to.
Moving our focus outdoors
As the cold of winter gradually ceded control to the sunshine of spring, I was only too ready to turn my attention to the out-of-doors.
I had been thinking a lot about resilience and what exactly that meant for a rural landowner. We had done a good job with the house, and we are planning how to provide water during power outages - likely using a modern hand pump of the type I've written about - but resilience is also about food.
I wanted to create a homestead with the capacity to become close to self-sufficient in food production should circumstances call for such a need - for example, if a long-term drought in the West and Midwest with no snow pack in the Rockies and Sierras curtails agricultural production in the grain belt and California's Central Valley.
In such a scenario, the supply-line of grains, vegetables, and meats from points west becomes compromised - not a likely scenario, but a possible one. How could our land at Leonard Farm provide some level of food self-sufficiency?
Creating an orchard
With snow still on the ground, I began planning a fruit and nut orchard. Our property has three open fields: two at an acre to an acre-and-a-half each and one that's 7-8 acres. One of the smaller fields, on a rise just west of the house on an east-facing slope, would make a great orchard, I decided.
After having spent parts of two years pushing the encroaching woods back, I spent weeks this spring pouring through catalogs and deciding on trees to put in.
I created a design for the field showing how I could fit in several dozen fruit trees, a chestnut grove of a dozen trees, and an extensive berry patch for blueberries, raspberries, black currents, and gooseberries - all that could be fenced in to protect it against our ubiquitous deer.
It was a very late spring, and I didn't plant the trees until late-May. Fortunately, I had a huge pile of wood chips to mulch the trees, though I haven't gotten fencing up yet. This year I planted a dozen fruit trees and ten Chinese chestnuts; next year I hope to put in a dozen or so more trees plus berries. I'm hoping to get fencing in this fall.
Planting the lower field
While I knew I wasn't going to have a lot of time for gardening this summer - as we prepare for our daughter's wedding on the farm at the end of August - I did want to get something into the ground to begin improving the soil.
Figuring that pumpkins and winter squash, once they spread out, would shade the ground and control weed growth, I opted for that.
I learned that a local beer brewer who has just moved to the area (
Hermit Thrush Brewery
) was looking for several varieties of heirloom pumpkins (White Cushaw, Musque de Provence, Jarrahdale, and Galeux D'Eysines), which I planted, along with a row of New England Pie Pumpkins and two rows of winter squash (four varieties).
These rows are nearly 200 feet long, so if all goes well we should have lots of pumpkins and squash - probably way more than the brewery can use, so I'll be looking for other markets for weird-looking pumpkins that no one has ever heard of! Let me know if you're looking for organically grown squash and pumpkins this fall!
We also planted lots of sunflowers and zinnias for the wedding and some more typical vegetables for home consumption: tomatoes, peppers, broccoli, cabbage, green beans, basil, etc. We didn't plant greens or root vegetables, as those are higher maintenance, and I thought they would require better soil that will take a while to build up.
While my initial plan was for low-maintenance farming, the garden has been a fair amount of work! I'm using an old Troy-Bilt rototiller I've had for 30 years for some of the cultivating, but mostly I've been using a European wheel hoe that I bought close to 30 years ago when Green River Tools was going out of business and selling their tool inventory.
I find the wheel hoe works really well (with its oscillating stirrup-hoe blade that cuts pushing and pulling) if I keep after the weeds - cutting them off before they get too large (I tilled the garden initially with my Kubota tractor and a PTO-drive rotovator). Yes, I'm sore, but working the soil and transforming it from turf this year has been very satisfying.
Livestock?
I remember reading a
Time
magazine interview with Michael Pollan, author of
The Omnivore's Dilemma
, in which he was asked what
one change
he'd like to see in American farming to improve it. He replied: putting livestock back on the farm - for nutrient cycling. We want some animals at Leonard Farm, but we're not sure just yet what that will look like.
We will probably put in a chicken coop next spring, and down-the-road may put in a pen to raise one or two pigs each year. Goats? A family cow? The fertility from those animals will help the gardens and minimize our need for purchased fertilizer. We're hoping for brewing waste from the brewery for livestock feed and compost.
Resilience takes time
I've been reading Ben Falk's book,
The Resilient Farm and Homestead
, and learning what Ben created in the Mad River Valley of Central Vermont. What he has done in bringing back a long-neglected hill farm is impressive, though he has done this with a cadre of interns working with him; I'm not convinced Leonard Farm will ever have such a robust labor force.
I'm curious how far I'll get in our goal of being able to source 75% of our food from our property. It will be hard work getting there, but a fun challenge. I hope that circumstances will not require us to become largely self-sufficient, but it will be comforting to know that that would be possible if necessary.
Sidebar: Five Steps to Resilience on a Rural Farm
1. Achieve passive survivability with your house
Build or renovate the house so that it will maintain habitable conditions in the event of loss of power or interruptions in heating fuel. This is the concept of passive survivability I've long promoted. In a rural area with access to firewood, this should be relatively easy.
2. Provide a resilient water system
This is much easier in a place like Vermont than in the West, where available water may be too deep underground to pump by hand and rainwater harvesting may not be adequate to meet needs. But getting fresh, clean water is still often the biggest challenge in Vermont when power is lost. We will have both gravity-flow water from our pond located about 100 feet in elevation above the house and a hand pump for drawing water from our deep well when we lose electricity.
3. Provide food security
Growing and storing your own produce is the best way to achieve a resilient food system. We have a long way to go here - particularly with storage (food dehydrating, root cellars, canning, etc.).
4. Provide for resilient transportation
Think about how you will get access to critical services and supplies in the event of a gasoline shortage or inability to pump gas. When we looked for a place to buy one of our criteria was bikability to town. With a cargo bike we could easily do a weekly shopping trip into Brattleboro for food and other supplies.
5. Build community
In many respects, the social aspects of resilience are more important than the physical ones. During times or emergency or stress, we need to rely on a larger community for support. Our new farm backs up to West Dummerston Village, which has roughly 30 houses clustered in a tight-knot neighborhood. At one point we were thinking of creating a co-housing community at Leonard Farm, but we have decided to focus instead on helping to build a stronger community as part of the village.
Along with founding the
Resilient Design Institute
in 2012, Alex is founder of
BuildingGreen, Inc.
To keep up with his latest articles and musings, you can
sign up for his Twitter feed
.